江西时时彩走势彩经网
黑龙江快乐十分实时开奖
南京桑拿按摩全套
上海11选5走势图 任选基本走势
下载澳门六和彩
广西11选5走势图表
北京pc蛋蛋
开元棋牌平台
青海快3走势图基本走势一定牛
北京赛车pk10公式
2012足球比分
竞彩足球比分直播澳客
手机玩填大坑能赢钱的
大嘴棋牌游戏下载
快三走势图安徽
广东好彩1怎么玩
雀魂麻将app下载手机版
| | | | |
| --- | --- | --- | --- |
| | | | |
Adenosine
[Chemical name]9- β-D-Ribofuranosyl adenine
[Molecular formula]C10H13N5O4
[Molecular weight]267.24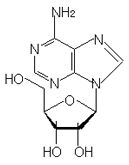 [Use]It is a inner-borning nucleoside can be found all over the human body, can directly enter cardiac muscles and be phosphated to adenosine phosphate, take part in energy metabolism of cardiac muscles, moreover alsotake part in expanding of cardiac blood vessels, enlarge blood flow. Adenosine have physiological actions to cardiac blood vessel system, many other systems and tissues. It is an important intermediate in synthesis of ATP, adenine, adenosine phosphate and vidarabine. [Specifications]
Description:White or almost white crystalline powder
Melting point:233 ~ 238oC
Rotation:-68.0o~72.0o
Loss on drying: ≤0.5%
Residue on ignition: ≤0.1%
Heavy metals: ≤10ppm
Assay(HPLC): ≥99%
In compliance with USP 30
[Storage]Preserved in tight containers from light.